Instructors – BWSC 2017
Joel Beeke
Dr. Joel R. Beeke is President and Professor of Systematic Theology and Homiletics at
Puritan Reformed Theological Seminary
, a pastor of the Heritage Reformed Congregation in Grand Rapids, Michigan, editor of
Banner of Sovereign Grace Truth
, editorial director of
Reformation Heritage Books
, president of
Inheritance Publishers
, and vice-president of the
Dutch Reformed Translation Society
. He has written and co-authored eighty books, edited fifty more, and contributed 2500 articles to Reformed books, journals, periodicals, and encyclopedias. His PhD is in Reformation and Post-Reformation theology from
Westminster Theological Seminary
. He is frequently called upon to lecture at seminaries and to speak at Reformed conferences around the world. He and his wife Mary have three children.
Danny Faulkner
Dr. Danny R. Faulkner earned graduate degrees in physics and astronomy and taught at the University of South Carolina Lancaster for over 26 years. Dr. Faulkner is a member of the
Creation Research Society
and also serves as the editor of the
Creation Research Society Quarterly
. He has written more than a hundred papers in various astronomy and astrophysics journals, and is author of
Universe by Design
and
The New Astronomy Book
. Read Dr. Faulkner's extended bio page at
Answers in Genesis
.
Marcus Pittman
Marcus Pittman is a documentary filmmaker and TV producer. He's directed and produced films such as
Babies Are Murdered Here
,
How to Answer the Fool
and
Debating Dillahunty
. Currently he is executive producer of Apologia Studios and show runner for
Apologia TV and Radio
. His desire is to see Christians take over "new media" the way the reformers took over the printing press during the times of the Reformation, by training the youth to quickly take charge of and create new media technologies for the Kingdom.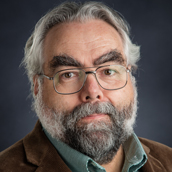 Roger Schultz
Dr. Roger Schultz is the Dean of the College of Arts and Sciences at
Liberty University
. He previously served as Chair of the
History Department
. His specialty is American religious history, and is particularly interested in world-view education and how Christian commitments and Biblical presuppositions influence approaches to academic disciplines. The Schultzes have nine children (seven are Liberty University alumni, two are current Liberty students) and nine grandchildren. Dr. Schultz will be doing a series on the Heroes of the Faith.